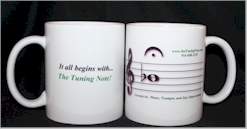 TTN Mugs
Available for purchase.




TTN Hats
Available for purchase.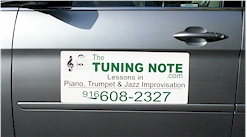 NEW GROUP FORMED!



The Tuning Note - The TTN Brass Quintet:

Welcome to the web page for our newly formed group, the TTN Brass Quintet! We are very excited to have formed our new group, performing music by some of the greatest composers of all time. Many of our arrangements are those arranged by Walter H. Barnes, in association with the world class Canadian Brass Quintet. As a local composer and arranger, we also perform my own arrangements, which also gives us the tremendous flexibility of writing for any piece desired! This would include for many different functions and events, whether it be a wedding, a patriotic celebration, any kind of party, or whatever the situation calls for.

As our calendar can fill quickly, particularly weekends and into the Spring and Summer months, please contact as soon as possible with any of your performance needs. You can e-mail us at TTNBrassQuintet@theTuningNote.com or call the Tuning Note at 916-608-2327.

Below is a short listing of some of the pieces we currently are performing, keeping in mind we can arrange for any requested song or piece of music.


| | |
| --- | --- |
| Title | Composer |
| Trumpet Voluntary | Clarke |
| Largo | Handel |
| Sakura & Kimigayo | traditional Japanese |
| Just A Closer Walk | traditional American |
| Canon | Pachelbel |
| Rondeau | Mouret |
| Andante | Haydn |
| Cor Royal | Nicolai/Cornelius |
| Farandole | Bizet |
| Toreador Song | Bizet |
| Hava Nagila | traditional Israeli |
| Amazing Grace | traditional American |
| Trumpet Tune and Ayre | Purcell |
| Hallelujah Chorus | Handel |
| My Heart Ever Faithful | Bach |
| Contrapunctus I | Bach |
| La Péri: Fanfare | Dukas |