Studio transforms into a recital hall
for annual Spring recitals



Annual End of Summer outdoor concert!

Some of the gifts handed out to new students at the Annual Spring Recital: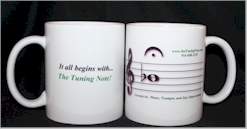 TTN Mugs
Also available for purchase.




TTN Hats
Also available for purchase.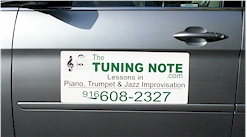 The Tuning Note - PRIVATE LESSONS - CURRENT SCHEDULE AND AVAILABILITY
NOW ACCEPTING NEW STUDENTS!



- CURRENT LESSON SCHEDULE -


All lessons are 30 minutes in length (unless scheduled for 1 hour lessons).
Shaded areas are always unavailable unless otherwise noted.


Click "OPEN" to send an e-mail to reserve a slot for you or your child!


Students not listed above:


Names in italics are added temporarily (i.e., waiting for lessons to start or resume)
*Flex slot:
If this lesson time is chosen, there may be occasional rescheduling due to my performance schedule (e.g., a Friday evening, subbing at Sunday church services 7:30a-12:30p, Sunday brunch gigs 12-3pm, etc.).
1M:
Once a month.
2M:
Twice a month.
3M:
Thrice a month.