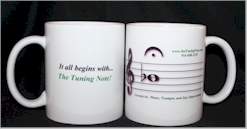 TTN Mugs
Available for purchase.




TTN Hats
Available for purchase.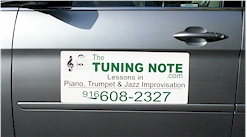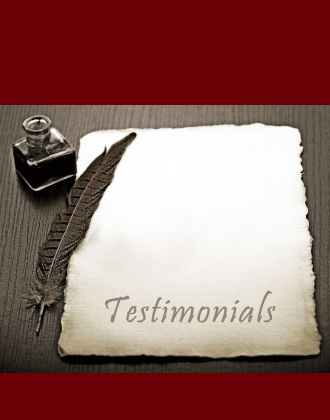 The Tuning Note - TESTIMONIALS for Lessons:


AMAZING player as well as a great teacher. You know you got a good lesson when you get lots of good info while having a blast. - A.R.


My daughter has been taking jazz piano lessons from Chet for one year now and we could not be happier. Chet is very passionate about music and is an expert jazz pianist. Any piano style from classical to jazz Chet can handle with ease. My daughter has had other very good piano teachers over the span of 10 years, but Chet ranks the best for passion and knowledge. If this review can help you, whether you are an adult or you have a child who wants to learn any style of piano music, please give Chet a chance. - L.T.


Chet is a phenomenal teacher with an exhorbitant amount of knowledge and information to pass on with every lesson. His experience in all facets of music puts him at the top of the musical leaders in Sacramento. Guaranteed to make you better. - B.L.


Chet has been teaching my kids piano and the experience has been priceless. We changed many teachers till we found him. He focuses both on theoretical and practical, thus the teaching is not boring or lacking the fundamentals. His system has the perfect balance. He also went out of his way to accommodate our schedule and has been working longer sessions with my kids on his own dime. HIGHLY recommended. My kids, 11 and 5 fell in love with music because of him. We are forever thankful. - P.P.


Chet is an amazingly gifted teacher and my son is so fortunate to have him. Chet has an incredible music education he draws upon, not to mention his talent and ability as a musician playing piano and trumpet, jazz, classical and all popular music. I studied jazz in Los Angeles and Chet is on a par with the very best. - S.B.


I was introduced to this man approximately 3 years ago through a friend that had been taking music lessons from him. My son is talented in the arts; yet, his personality at times may make it difficult for him to stay interested with learning anything. Chet is not only proficient in music, he is able to tune into each student's personality so that they will get the most out of his teaching and love for music. I highly recommend any person, at any level of music who is looking for an instructor to contact him. - N.R.


A professional jazz musician, who is inspired (by) various great composers and artists then transformed (them) into his own style - Chet let's his talents shed into mentorship for many youngsters and adults. He is also a great father. Religious man. - K.N.